Custom Cabinets by Cabinet Specialties
For Discriminating People
---
Anyone building a new house or remodeling an existing home who seeks to have uniquely designed cabinetry in the kitchen, bathrooms and other key entertainment and social areas should consider custom cabinets designed and built by Cabinet Specialties. Cabinets are designed specifically for the space available. The style and appearance can be as unique as the customer desires. The design possibilities are endless. The quality of construction is superior.
In order to insure that the customer's dreams and desires are fully realized in their custom cabinetry, Cabinet Specialties advocates a great deal of time be spent in the design phase. This process begins with a review of the space and a thorough discussion of the customer's thoughts and requirements. Often this includes the customer appearing with a magazine article and commenting that "this is what I want my cabinets to look like". This initial step is followed by a preliminary computer generated design of the space and the cabinets. This digital technology affords the customer the opportunity to stand in the space, consider the design, how it looks, how it works and then make whatever changes necessary to perfect the design.
Typically after several revisions and the final selection of wood and finishes, a final design can be developed which truly reflects the customer's quest for lasting beauty and functionality. Then the cabinetmakers at Cabinet Specialties go to work building the cabinets. It should be noted that every detail of cabinet construction is supervised by Henry Han who also serves as the key designer. This insures that, when the cabinets are ready to install by Cabinet Specialties installers, everything will fit and the final product will meet every expectation of the customer.
Two things worth noting about custom cabinets from Cabinet Specialties –
Custom cabinets are not mass produced like a "stock" cabinet, each job is designed for the unique requirements for each customer.
However, unlike many cabinet shops and boutiques, Cabinet Specialties does not charge a premium for its cabinets being "custom". As a result, given the quality of design and construction, customers find the cost of custom cabinets from Cabinet Specialties to be quite reasonable given alternatives they have considered.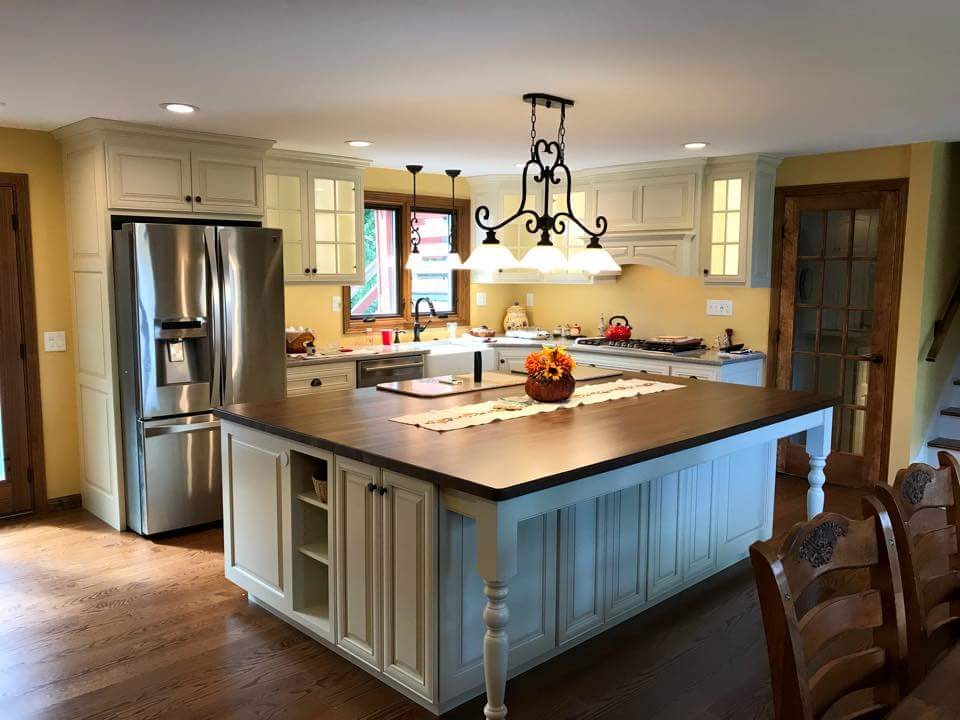 Custom Kitchen Island painted Antique White with Chocolate Glaze and a Dark Walnut Countertop.